Our services are adjusted to our customers' expectations.
We create new strategies and models of action, construct machines and tools needed to build them. They win the markets, and we – regular customers.  Each of our products makes us proud. Here are some of them:
Ship Switchgears
Switchgear is the energy control center of a ship. We take care of every last detail so that everything works perfectly. We offer designs and construction of many different types of switchgear, including single, modular and monolithic. The construction can be based on bolted, perforated steel profiles. We work according to our own project, or precisely adapt to our client's instructions and documentation.
Elements for Automatic Production Lines
Stability, durability and repetitive quality are the key. This is what Konsmet offers. Always precisely adjusted to the governance, expectations and technical or proceduaral standards of our customers. Advanced technologies help us to get the intended construction properties, e.g. the rigidity of a construction that frequently under the influence of vibrations is subject to serious overload.
Bag Gripping Device
Reduced mass advantage – specially fitted steel alloy is used in the construction of a gripping device, the equipment part of a production line. Less weight resulted from the removal of additional loads in sequential elements of the construction. Reduced mass enables better and simpler cooperation with robots on a production line.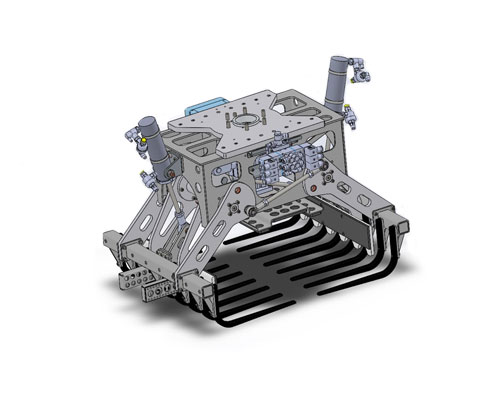 Variable Frequency Drives (VDF) /Casing
Our casings are employed in hydroelectric, solar and wind power stations. They are used in inventers with rated output power 0.15-315 kW. One of the most significant issues is the choice of the location for the installation of a device. Well planned construction enables to obtain more safety and reduce the risk of failure, i.e. costs of future usage and maintenance. We pay close attention to every detail from the first sketch up to assemblage and installation.
Electrical Cabinets
Electrical cabinets protect the installation from bad weather conditions (and bad people). We specialise in individual orders – a new cabinet will be the one you need. We can either produce the set of cabinets in accordance with given specification or suggest unorthodox individual solutions. Our products can be made of carbon steel, stainless steel or aluminium.
Door to Transformer Stations
Single or double. It is significant to fulfill all functions specified by the client and to provide the door that matches the building they are going to be part of. In achieving the later we offer you a wide range of colours – RAL palette.
Semi- Finished Products/Items
In order to work even faster and to be more precise we design and produce our own tools that enable us to meet even the most ambitious demands. Konsmet's products can be used in a variety of branches, and flexibility of our team makes it possible to produce  non-standard and unique shapes.
Ready products are only the example of our potential.
We are always ready for a new, innovative realisation and the preparation of a new, individual design. Contact »